Hello my awesome friends/family/followers/people who forgot they even subscribed to my blog in the three months since my last post!
It's always a bit funny weird really freaking annoying when I sit myself down to do an update post (or sitting down to write anything at all). I usually spend my entire work week getting great ideas of what I want to say and how I want to say it, jotting down ideas, getting emails from my agent and my editor thinking "ooh, this is exciting, I should share this, ooh, I should tell everyone about this." And then I get to the computer and I'm like: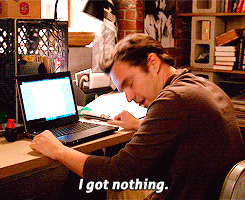 But I assure you, things have been happening over here. For example, last you heard from me I was going through a bit of a Friends phase. Having rewatched the entire show, I'm proud to say that I can now focus on important things like writing and editing and planning future books.
At least, I could up until my sister got me hooked on Chinese and Taiwanese TV shows on Netflix. Seriously, it's this whole big thing now and it's all Laura's fault. What started as one simple show suggestion has spiraled into an endless string of silly, cheesy, yet adorable series that take twice as long to watch as English shows because you're constantly having to pause the screen just to read the impossibly fast subtitles. The downside to watching these shows is that you literally can't do anything else while watching them because if you look away for even a second you're suddenly as lost as a blood-sucking Kiefer Sutherland with a bleach-blonde mullet. (Get it? 'Cause he was in The Lost Boys?)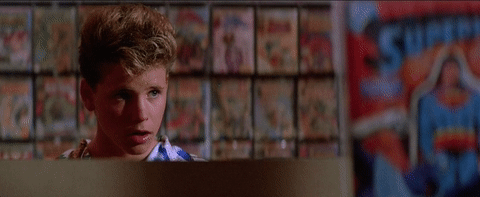 Sorry, I've also been watching a lot of stand-up comedy specials lately.
Okay, in all seriousness, a lot has been going on. For instance, I got word from my publisher that we have a date officially set (more or less) for my first book Keeping Score. (If you want to know more about my debut novel, check out the description on my homepage here.) As it stands, Keeping Score is set to release August 1, with it's sequel, Daring to Fall, set for September 1. Now there is a chance that these could change, so I'll keep you guys informed on that with what I hope to be monthly updates right here on my blog. Or if you want to get news as it's happening, check out my Facebook author page with the link over on the right.
Also crazy exciting, I officially received the notes from my editor and submitted my first round of edits for Keeping Score. Let me tell you, that was a humbling experience. You hear stories about writers who got notes back and found their manuscript completely gutted, and I've always had mixed feelings on this. On the one hand, you want to be that one person who's editor just says, "Wow, you really know what you're doing. There's hardly anything I would change." But you also want there to be some changes, otherwise you get this anxious feeling that maybe your editor is one of those freelancers who doesn't actually care about the book but is just looking to make some cash on the side.
Or worse, maybe your manuscript is actually so bad that they literally just kept making this face the entire time they read it.
I mean, at this point there is nothing they can say or do to make this piece of garbage readable, so really, why bother at all?
Fortunately for me, none of this seemed to be the case with mine because my editor not only had lots of notes for me, she tore my book up. But in a good way. Like I can't even be mad about it because everything she said was So. Freaking. True! (And I can say that because I have a Bachelor's degree in English.)
Yeah, it was a long, painful process of staring at my computer screen trying to figure out how the heck to say this or explain that and completely change an entire plot point that runs straight through the story from beginning to end. And don't even get me started on the scenes I had to rewrite in my hero's POV–which I've never done before and find completely daunting. But y'all, this book is so much better now because of it (hopefully my editor agrees and I don't have to go in and do it all over again) and I can't wait for you guys to read it.
So yeah, the countdown has started, and my first book is set to come out August 1. Only 4 months away! I've still got a lot to work on, including coming up some marketing ideas–like possibly starting a beta group to read a free advanced copy in exchange for an honest review on Amazon. You guys know anyone who would be interested in something like that? If any of you have some advice or ideas about where and how to get this book out there, I'm all ears and would love and appreciate any tips you have for me.
Thanks for following and for all the support you guys. Y'all are awesome!